Tercentenary of United Grand Lodge of England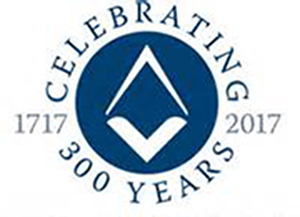 In 1717, the formation of the First Grand Lodge took place in London. Masonry, today, is the oldest fraternal organisation in the world and celebrates 300 years of UGLE in 2017.
Founded upon the principals of Kindness, Honesty and Fairness, Masonry is not the 'secret society' marked by many. To the contrary, the organisation is one of transparency, simply cultivating a sense of belonging, between like-minded men. Masons are the second largest charitable givers after the National Lottery and are major contributors to international disaster relief funds.
The Tercentenary of The United Grand Lodge of England will celebrate not only 300 years of UGLE, but Provinces and Districts throughout the English Constitution will mark the occasion by holding celebrations commemorating Masonry generally, as well as this remarkable milestone.
The two lodges located in Frome namley the Royal Somerset 973 and Forest of Selwood are planning several functions during the month of June and July to celebrate this monumental occasion and involve the people in Frome and surrounding areas on the activities of the local lodges in supporting organisations in the district.
The activities will include :-
Celebration Fete in the grounds of Frome College 15th July
(Including Classic Car show, Stalls and Entertainment.)
Open Day at the Frome Masonic Center
Display at the Frome Market
Display at the Frome Show.
To find out more on each of the activities please click on the specific link.