Tercentenary of United Grand Lodge of England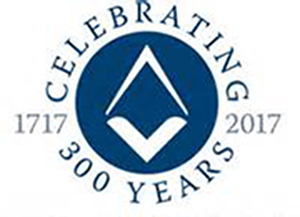 Tercentenary Celebrations at Frome
The evening commenced with a regular meeting of the Forest of Selwood lodge to which the members of the Royal Somerset lodge were invited , this meeting was to be a very swift one as the ladies and guests were waiting downstairs. A fraternal visit from the Province led by W Bro Barry McCormack APGM was also welcomed to the lodge.
V W Bro Ray Guthrie than rose to inform the brethren that a special presentation on behalf of both Craft lodges was to be made to W Bro Reg Brimson who for as long as most can remember has been the Tyler of both craft lodges and Dungarvan Chapter.
V W Bro Ray unveiled a beautiful oak chair which had a brass plate with W Bro Reg's name inscribed on it, at this point the Tyler was summoned and W Bro Reg entered the lodge looking puzzled as to why he was there.
V W Bro Ray made the presentation and W Bro Reg quickly took up residence to test the fit. The WM congratulated Reg before finishing any business and closing the lodge, all brethren then retired to meet up with their ladies and guests.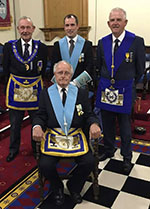 The 4 course dinner was excellent and the time soon came to make a presentation. V W Bro Ray Guthrie rose to thank all the special guests who had contributed to the success of the Summer Fete and to the committee who had worked so hard to organise it, not forgetting the ladies who played their part on the day.
At this point W Bro John Rawlins the chairman of the committee was asked to make a presentation to the lodges chosen charity for the Tercentenary this being MENDIP YMCA, Karen Deverell the Chief Executive of the organisation along with Mark Willcox, youth community development manager received a cheque for just over £2000 which would be aligned to the local project in Frome of modernising the Youth centre.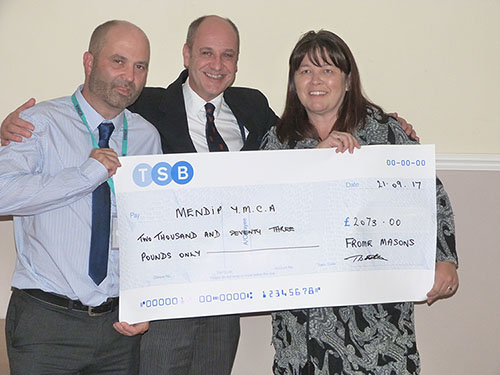 Karen thanked everyone for the hard work which had gone into the Summer Fete and for the £2000 and the previous donations made .
The Tercentenary has certainly brought Frome freemasonry together which in turn has benefited a great local charity but just as important it has put freemasonry into the heart of the community which was always a major goal.